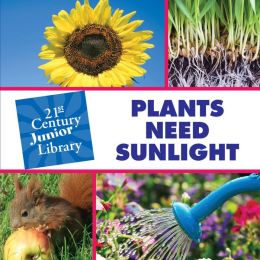 Show the students the cover of the book Plants Need Sunlight by Christine Petersen.
"Today's book is titled Plants Need Sunlight. It is written by Christine Peterson. Listening to the title of the book I think I already know one thing plants need to grow. Is sunlight one of the things we said earlier?"
I allow the students to call out the response, "Yes!"
"Okay let's read on and find out if there are other things a plant needs to grow."
At the end of the book I ask the students to recall one piece of information they heard from the book. I use the fair sticks to select four or five students to share with the whole group.
"Those were all good pieces of information. Now as scientists should we always trust everything we read?"
I allow the students to call out the response, "No!"
"That's right. Sometimes we should question what we read and test the information to determine if what we have read is fact."
I pull out four young bean plants I have already grown.
"I have here five bean plants that we will be using to test if plants do in fact need light, water, soil and space to grow."
"Can anyone tell me how I could set up these five plants to create a fair test which will give me the information I need?"
I select a student that is following the correct classroom protocol of raising their hand.
Soil
"Okay Harper says that one of the plants should have the dirt taken out. How could I do that?"
I follow the directions of the student who responds. "Alright so I have taken the plant out of the pot and knocked the soil off and now I put this plant in an empty plant pot."
"What else do I need to do?"
Light
"Jason says I should cover this plant with a black bag to stop the light. I do not have black bag but I do have two brown paper bags that I can use to cover the plant. Will that work to block out the light?"
The class usually accepts the two bags – one put inside the other – as a good way to stop light.
"What else do I need?"
Water
"That's right Adam, one of these last two plants is not allowed to get water. Let's make a "No Water" symbol here on the tray where we are going to place the seedling. That will help people remember not to give this seedling any water." I draw a cup with water on the tray and then draw a circle around it with a line through it. This is a pretty universal sign for "No" which my ELL students recognize.
"How about this plant? Who can tell me what to do here?"
I select a student who has not had a turn.
Space
"Colin says this plant is not allowed space. How can we do that Colin?"
"Now when you say put something over it we have to remember that this plant is allowed light. So what can we use?" I will have strategically placed a small transparent container near my presentation in the hopes that the student will see this as a tool to use.
"Great idea Colin; we can place this little transparent cup over the plant so now it will still get light but it has no space."
"Who can tell me what my last plant is?"
"You are absolutely right Nate; this plant is my control. What does that mean Nate?"
"Well done. This plant will receive water, keep its soil, have all the light it needs and have space to grow."
Once I have all of the plants set-up I place them on a tray.
Our plant needs experiment set up
"Today I will have the plants at the work station for you to observe and record in your science journal. Once work station time is over I will place the plants by the window at our science center. Each day it will be a new person's job to water the plants that are allowed to receive water. Every other day we will observe our plants and record what we see."
"At the end of two weeks we will evaluate the information we have collected through observation and make a classroom poster to communicate our findings with others."
"Does anyone have any questions?"
I send the students over to the integrated work stations one table group at a time to maintain a safe and orderly classroom. It usually sounds like this;
"Table number one go get ready to have some recording fun.
Table number two, you know what to do.
Table number three, hope you were listening to me, and
Table number four, you shouldn't be here anymore."
Allow the students 15 minutes to work on the activities. After 15 minutes are up, the timer goes off and the students clean up and get ready to switch stations.
I set the visual timer and remind the students to look at it so they can use their time wisely.
At this station I have the students' record what they observe about our experiment in their science journals. I have the students divide their page into four sections. One section is labeled "no water," one section is labeled "no light," one section is labeled "no soil," and the final section is labeled "no space."
Student sample of experiment recording
The students then draw what we observe for day one. I have the students use the date stamp to record the date so they will have adequate time to draw detailed recordings.
In this activity the students are exploring the different needs of a plant by recording our experiment set-up.