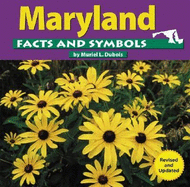 "Today's book is called Maryland Symbols and Facts, by Muriel L. DuBois. Since we watched a video clip about plants what do you think today's Maryland symbol is most likely to be?"
I allow the students to call out the response, "A plant!"
"You are absolutely right. It is a plant. When we come across it in the book I will stop and we will discuss what it is."
During reading we stop and discuss some of the symbols we have already discussed such as the flag and the crab. Be advised that due to the level of text is this book I skim read some of the pages and drop some of the text altogether. This book is very detailed in wording, but it has great pictures and clear symbols.
When the book is over I set it to the side and say, "Today at one of your work stations you will be botanists. You will use your science journal to record a drawing of a Black-Eyed Susan and you will label the parts of the plant. You will need to recall the information we heard in the video clip and the words we discussed while reading the book."
"You will need to draw an accurate drawing using scientific coloring because this is a piece of information that will be shared with others to teach them about the Maryland state flower. You will need to label the plant so the reader is able to clearly understand what you have drawn."
"Try your best to accurately label the parts of the plant and if you need help there will be a resource of a word bank to help you."
"When you are done with your drawing and labeling, please bring your journal over to me for checking. I will be looking to see how accurate your drawing is. I will look to see if the parts of the plant are labeled and checking to see if your work is neat and tidy."
"Does anyone have any questions?"
Once I feel the group has a good grasp of the instructions I send the students over one table group at a time to maintain a safe and orderly classroom. It usually sounds like this;
"Table number one let's go have some plant drawing fun.
Table number two, you know what to do.
Table number three, hope you were listening to me, and
Table number four, you shouldn't be here anymore."
Allow the students 15 minutes to work on this activity. Set a visual timer and remind the students to look at the timer so they will use their time wisely.
Students working at the station Student using the word bank to label Students working on labeling
WHY LABELING?
Labeling items involves many skills that the students will use later on in different subjects. When students are sorting items the categories they are putting the items into are often labeled so it is important for students to recognize what labels are and how they help the reader. Many non-fiction texts use labels to aid in reader comprehension and this can be pointed out to students as another feature to look for when deciding if the book they are reading is fiction or non-fiction. In today's activity it is pointed out that the labels help the reader learn the different parts of a plant. Once the reader knows what the plant part is they can learn about its function.
Becoming proficient at labeling the items themselves helps promote good work habits through skills such: using books to research information, writing letters while recording the labels, and increasing vocabulary skills as the students discuss label choices with their table partners.
Later in the day I read B is for Blue Crab by Shirley C. Menendez and illustrated by Laura Stutzman. This book has many Maryland symbols in it. Some we have been introduced to and some we will be doing in future lessons.
When we get to the Black-Eyed Susan I stop and we discuss how the state flower is the Black-Eyed Susan. We compare its features to the plant in the video and we discuss what a native species is as opposed to an invasive species.