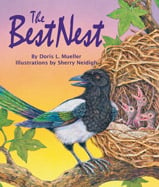 "Today's book is called The Best Nest, written by Doris L. Mueller and illustrated by Sherry Neidigh. Believe it or not listening is a very important skill to have. In today's story you will see one very good listener and several not so good listeners."
During reading we stop and discuss which birds are using good listening skills and which are not. We also discuss some of the Maryland birds we know and introduce others.
When the book is over I set it to the side and ask, "Can anyone give me a brief summary of what the book was about?"
I select a student to respond.
"Good summary Kallee. There was one very good nest builder and everyone did want to learn how to build a nest just like the Magpie. But not all the birds listened and so their nests are not as good. Only the Baltimore Oriole listened to the whole lesson so they have a very good nest."
"Boys and girls do we live in nests?"
I allow the students to call out the response, "No!"
"Your right we do not. Do we lay eggs like birds?"
Once again I allow the students to call out their response, "No!"
"Right again. Here is a tricky question for you. Think about the Baltimore Oriole and think about us. What are some things we DO have in common?"
I select a few students to respond.
"Those were all great response. We both have legs, we both have skin, we both have eyes and we both have bones."
"Today at one of work stations you are going to see a recording sheet that looks like this one (I hold one up for the students to see). Can anyone tell me what this type of tool this called?"
Bird Human Comparison Recording Sheet
I select a student to respond.
"That's right Max; this is a Venn diagram. Who can tell me what we use a Venn diagram for?"
I select another student to respond.
"Well done Jill; we use this tool to compare and contrast things. I am very impressed that you remembered that."
"You will be comparing and contrasting two things you know well from books we have read and videos we have watched.'
"In this section you will put all the features you know to be true about birds. In this section you will put all the features you know to be true about us. In this final section you will put all the features we share with birds."
"You need at least three facts in each section."
"There will be books at the table to help you with any features you may have forgotten and to help with writing the words. What other resources can I use?"
I select enough students to cover the resources available for the students.
"Great job everyone. We can use our friends, we can use the books and we can use the teacher at the table."
"I will be using a check list to see if you followed the directions we have been given. Can anyone tell me the directions you have heard today?"
I select enough students to respond to recall the directions I have given.
"Does anyone have any questions?"
Once I feel the group has a good grasp of the instructions I send the students over one table group at a time to maintain a safe and orderly classroom. It usually sounds like this;
"Table number one let's go have some Venn diagram fun.
Table number two, you know what to do.
Table number three, hope you were listening to me, and
Table number four, you shouldn't be here anymore."
Allow the students 15 minutes to work on this activity. Set a visual timer and remind the students to look at the timer so they will use their time wisely.
Students comparing bird person comparisons.
Student working on bird person comparison Venn diagram.
WHY COMPARE AND CONTRAST?
I believe it is very important for students to learn how to compare and contrast two or more items effectively. Comparing and contrasting items is a step towards learning how to compare more abstract concepts such as answers to questions and solutions to problems. For example, there is more than one way to solve a math story problem – you just have to find the one that makes the best sense to you by comparing strategies. Later this skill becomes relevant when you have to solve environmental issues such as the plight of the Monarchs. Tourism helps the village economy, but it harms some of the Monarchs winter over territory. How do we solve this problem? We have to compare and contrast the pros and cons by looking at both sides which then helps us make the best possible choice.