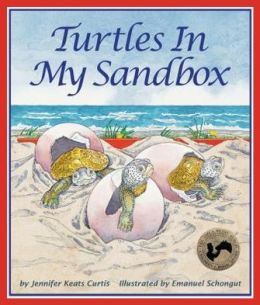 "Today's book is called Turtles in my Sandbox, written by Jennifer Keats Curtis and illustrated by Emanuel Schongut. Would someone like to make a prediction as to what this book is about?"
I select a student who is following the correct classroom protocol of raising their hand.
"Why do you think the book is going to be about some turtles in a sandbox Avery?"
"Those were great reinforcing ideas; the title tells us that there will be turtles in a sandbox and the illustration supports the title."
"Let's go ahead and read our book to see if Avery's prediction is right."
During reading we stop and discuss new vocabulary words such as; stubby, hatchling, pellets, aquarium, etc. We review words from previous units such as; predator, prey, etc.
When I have finished reading the book I tell the students to take a seat around the edge of the rug.
"Can anyone give me a brief summary of what this book was about?"
I select a student who is following the correct protocol of raising their hand to respond to the question.
"Thank you Connor; you are right. The book is about a little girl who finds turtle eggs, protects them and then raises the baby turtles which she releases back into the wild after the winter."
"One of the things I like most about this book is that right here in the back of the book, it tells me exactly what I should do if I find Diamond Back Terrapin eggs so that I can be just like the little girl in the story. It also has a craft which we will be doing at one of integrated work stations."
"Now can anyone tell me the sound they hear at the end of the word "turtle" (once again I emphasize the last/final sound)?"
I select a student to respond to the question.
"Well done Rachel: I hear the /l/ sound too. Which letter makes that particular sound?"
I select another student to respond.
"Right Adam; it is the letter l. Looking at the title of our book we saw that the word turtle ends in the letter e but listen closely – turtle, do you hear the /e/ sound at the end?"
Most of the students are going to shake their head no.
"Your right; the letter e is silent it does not make a sound. The sound we hear at the end of the word turtle is the /l/ sound made by the letter l."
"Today at one of your stations I am going to ask you to listen closely to the sound you hear at the end of the word "turtle" (I make sure to emphasize the ending sound)."
While I am saying this to the students I open a blank screen on the SMARTBoard.
"Can anyone give me a word which has the /l/ sound at the end?"
I select several students to respond to make sure the students have a clear understanding of the sound they are listening for. I write their responses on the SMARTBoard so the students can see just how many words we came up with.
"Those were all great /l/ ending sound words. At one of your work stations today you will find two sheets that look like this (I hold up two sample sheets). As you can see one of these sheets is covered with pictures. It will be your job to find the pictures with the /l/ sound at the end just like our word turtle. Once you find the picture with the same ending sound, you cut it out and glue it onto the recording sheet."
Ending Sound /l/ like Turtle Ending sound turtle images
"When you have cut out and glued all of the pictures you think have the /l/ ending sound, you will need to label the pictures using your best tapping out skills. If you have difficulty with tapping out the sounds you can ask a friend at your table to help you."
Of course I will be sitting at this station to work with students who have may have difficulty; this is a great small group setting with a heterogeneous group which means I can draw on other students to reinforce the lesson I give. I am also there to act as a scribe for my students who are more likely to dictate their responses.
"Can someone repeat the directions back to me so I know what to do?"
I select a student who I know will give me the correct order of directions because I do not want my struggling students to get confused with misinformation.
"Excellent recall back of directions Carson. Now as we know Mrs. Clapp will be suing a checklist to make sure each of you followed the directions as they were given. I will need to see a name on your recording sheet. I need to see at least five pictures of items with the same ending sound as turtle. I need to see an attempt at labeling the items and the work needs to be neat and tidy."
"Does anyone have any questions?"
Once I feel the group has a good grasp of the instructions I send the students over one table group at a time to maintain a safe and orderly classroom. It usually sounds like this;
"Table number one let's go have some ending sound fun.
Table number two, you know what to do.
Table number three, hope you were listening to me, and
Table number four, you shouldn't be here anymore."
Allow the students 15 minutes to work on this activity. Set a visual timer and remind the students to look at the timer so they will use their time wisely.
Student gluing images on her turtle paper. Student gluing images on his turtle paper.
Students working at the ending sound station. Student explaining her choices.
WHY ENDING SOUNDS?
Students need to learn to hear separate phonemes within words. Direct phonemic instruction can significantly accelerate students reading and writing achievement. Students may be able to read words as a whole, but being able to segment the sounds and then blend them back to together, gives the students a better understanding of the letters and sounds which make up words, which in turn leads to more fluent reading and comprehension.