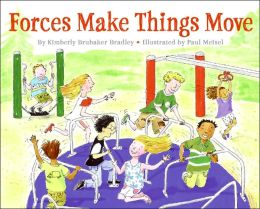 "Today's book is called Forces Make Things Move, by Kimberly Brubaker Bradley and illustrated by Paul Meisel."
"This book is going to show you how forces make things move. We use a lot of different forces throughout the day. I would like you to keep this fact in your mind; a push moves things away from you and a pull moves things closer to you."
During the reading of this book we discuss new vocabulary words such as; reactions, inertia, friction, etc. We review old familiar vocabulary words such as; gravity, push, pulls, etc.
After reading I tell the students, "Today at one of the integrated work stations we are going to be coming up with and discussing some of the forces you use every day in your life."
"Once we have discussed as many forces as we can think of, it will be your job to record our discussion on your recording sheet (I hold a sample up for the students to see)."
"You will need to decide which force is a push or a pull. You will draw a quick little illustration and then label the picture as best you can; using the strategies you know and resources available to you."
"As usual I will be using a checklist to see if you followed the directions you were given. Can someone please tell me one of the directions I just gave you?"
I select enough students to respond to the question until all of the given directions are covered.
"Great it sounds like my class was listening well to the directions."
"Does anyone have any questions?"
Once I feel the group has a good grasp of the instructions I send the students over one table group at a time to maintain a safe and orderly classroom. It usually sounds like this;
"Table number one go have some push/pull fun.
Table number two, you know what to do.
Table number three, hope you were listening to me, and
Table number four, you shouldn't be here anymore."
Allow the students 15 minutes to work on this activity. Set a visual timer and remind the students to look at the timer so they will use their time wisely.
WHY COLLABORATIVE DISCUSSIONS?
When students are collaborating successfully, they are working together as a group to produce something. The ability to work collaboratively is essential when students have to work on group projects in the upper grades and also when they enter the work force. Effective collaborators listen to others ideas as well as eloquently share their own. When students listen to others they gain insight into another perspective on how to solve a problem or a different point of view on a given topic. The same came be said when students are able to eloquently share their ideas and points of view.