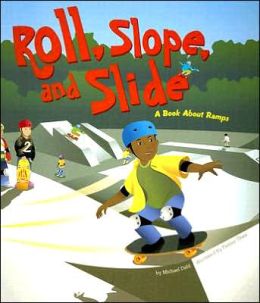 "Today's book is called Roll, Slope and Slide: A Book About Ramps, by Michael Dahl. Looking at the title who can tell me the two words that use our blend?"
I select a student who is following the correct classroom procedure of raising their hand.
"Well done Finnley; the two words are "slope" and "slide." They both have the blend /sl/ as their initial sound."
"Let's go ahead and read our book to see if there are any other words which use our /sl/ blend."
During reading I go over some of the vocabulary words as we come across them within the text. We review the meanings of words we have heard from previous texts; gravity, push, pull, etc, and explore new words such as; friction, effort, etc.
After reading I tell the students, "Now that we have finished reading I would like someone to tell me one way they have used an inclined plane."
I select as many students as there are responses. The responses will vary depending on your audience. Most of my students tell me about the different slides they have been on at parks. Sometimes I have a student who has an older sibling who is a skateboards or BMX bike rider.
"Those were all great ways to describe how we use inclined planes."
"I would like you to think back to the title of our book. There were two words that used a blend, some sight words and two more words with the same initial sound. Can anyone tell me what they think that initial sound is?"
I select a student who is following the correct classroom protocol of raising their hand.
"Great memory Rachel; the beginning sound, or initial sound is /r/. If the sound is /r/ which two words in the title am I talking about?"
I select a different student to respond.
"Kara is right it is the word "roll" and "ramp." She also pointed out they have the same initial sound as Rachel's name. Good work."
"Today at one of your integrated work stations you will find a sheet like this one (I hold up a sample for the students to see). There will also be a recording sheet that looks like this one (I hold up a sample). What do you think your job will be?"
/sl/ blend and /r/ sort recording sheet and images
I select a student who I know will give a detailed explanation because I want all of the students to comprehend what is being asked of them.
"Emily says that we will be sorting the items on the first sheet onto the recording sheet by sound. How did you know that Emily?"
"Ahhh… she knew what we were doing because she saw the picture clues at the top of each category of the recording sheet. There is a slide at the top of the /sl/ blend category and a roll of paper on the /r/ category."
"Boys and girls it will be your job to sort the items into the correct category and then label the items there. What is a resource I can use to help me label my items?"
I select enough students to respond to cover all of the available resources.
"Those are all great resources I can use. I can tap out the sounds, I can use books, and I can ask my friends."
"As usual we know Mrs. Clapp will be using a checklist to go over your work. I will be looking for student names, correctly sorted items, clear labels and neat tidy work."
"Does anyone have any questions?"
Once I feel the group has a good grasp of the instructions I send the students over one table group at a time to maintain a safe and orderly classroom. It usually sounds like this;
"Table number one go have some sorting fun.
Table number two, you know what to do.
Table number three, hope you were listening to me, and
Table number four, you shouldn't be here anymore."
Allow the students 15 minutes to work on this activity. Set a visual timer and remind the students to look at the timer so they will use their time wisely.
Students working on sorting sounds.
WHY BLENDS AND SORTING?
Blending is a skill easily overlooked. As proficient readers we already 'know' the entire word and can easily break sounds apart and effortlessly put the word together again. Since it is effortless for us we often fail to recognize the difficulty beginners face in combining individual sounds to form words. Beginner readers do not 'know' the end result (the word). Therefore, choppy segmenting of sounds can prevent them from being able to combine sounds together and form the word. To read proficiently, the student needs to learn to blend individual sounds smoothly together into words without choppy pauses between the sounds.
Sorting is important as it is part of the classification process. When students are sorting they are classifying items based on a specific set of similarities. At first these skills are purely based on sight, sound, or texture. Later on these skills become more refined and groups can be broken into sub-groups. For example the animal group in an animal / non-animal sort can be broken down to mammalian and non-mammalian.
Students need to practice classification skills as classifying saves people a lot of time. Think of a filing cabinet with hundreds of files. Information is easy to find when it is organized in a way that makes sense to the user. The office manager of a doctor's office organizes the patient's files alphabetically by their last name. Any file that is needed can be found almost instantly. But if hundreds of files were scattered and stacked without any order, it would be very hard to find a file you needed.