I begin this lesson by reviewing important measuring words from previous lessons; millimeter, centimeter, kilometer, milligram, gram, ounce, pound, milliliter, and liter. Next, I ask students what milliliters and liter measure. (capacity) I ask students if they know what the U.S customary system uses to measure liquid capacity. (Gallons, quarts, pints, and cups) I lead a brief discussion about the size of each of these containers, relating them to items students know, a gallon of milk, a pint of coffee creamer, etc.
Next, I show students two different visuals or graphics that I find helpful, even for adults, when converting capacity within the customary system. These are examples of two different graphics I show. I ask students to look for similarities and differences, but more importantly how these graphics could help them remember how many pints are in a gallon or how to convert various capacity measurements in the customary system.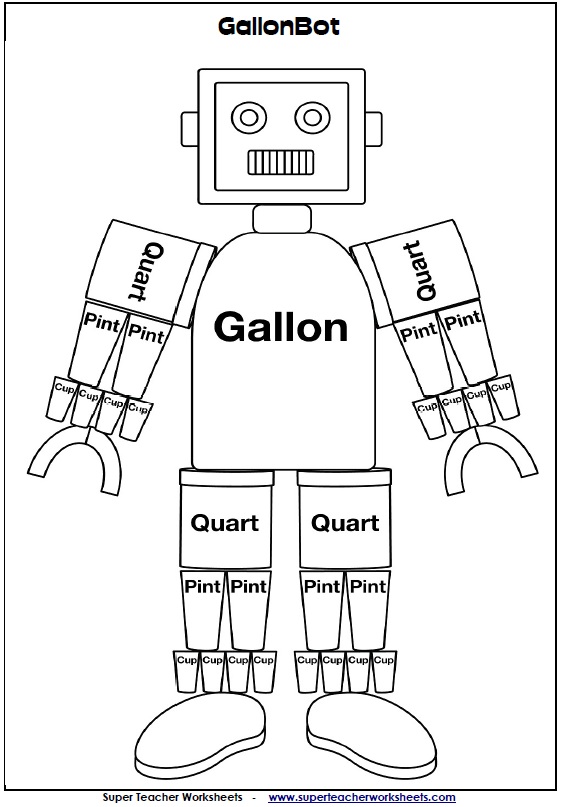 (
Next, I tell students I have a problem I need their help on. I then play this lemonade problem. - converting liquid customary and gram review problem
I play the problem twice. The first time through, some students are still so enamored with the idea that I recorded myself in my mother's kitchen that they forget to listen for questions and important information. The second time through, students are making sense of the problem and beginning to formulate ideas about what it is they need to do to solve the problem. After the second time through, I make sure all students know the questions to be answered by doing a whole class share out. I write down all the questions on the board as a scaffolding tool for my students who are visual learners. The questions the class lists are:
1. How many milligrams is equal to 246 grams?
2. How many pints is equal to 32 quarts?
3. How many cups is equal to 32 quarts?
4. If we make all 32 quarts of lemonade, will we have enough lemonade for every student in fourth grade?
5. If we don't have enough, how many more cups do we need? If we have enough, how many extra cups will we have left over?
Then students work with their learning partner to solve all five questions. The following photos show two different student work samples. You can see in this first example, the student has written all of the questions to answer at the top of his/her page. One interesting thing about this paper is that this student does not appear to be using multiplication to solve the question about pints. You can see that this student has drawn 32 "Q's" to represent the quarts. When I watched this student, the student then counted by twos to find the amount of pints in 32 quarts. This is important for me to know so that I can make sure during the sharing time that this student is able to hear other students more sophisticated and efficient methods of using multiplication.
Here is another work sample. Note in this sample, the students has drawn the gallon visual on his/her paper as a reference to aid in converting the various units in this problem.
Listen in as this student tells how she is counting to determine her conversions. Notice the similarity to the first photo. Both of these students will benefit from hearing other students strategies.
As you can see from above, there is a wide variety of understanding in my classroom in terms of what strategies are most efficient. Because of this, I designed this lesson to have a bonus question for students to work on while they waited for all groups to finish. The bonus question is: How many boxes of this lemonade should I buy if every student at Four Georgians had one cup? Students work on this last question while other groups work to finish the first five questions.
For homework, I assign students the task of creating a graphic representation of gallons, quarts, pints, and cups that makes sense to them. While I really like my graphic and think it makes sense, I also know that students must own this knowledge for themselves and let it make sense to them.
Students were very creative in their own designs. Some of student designs truly took on personalities reflective of that student. Here are some example.