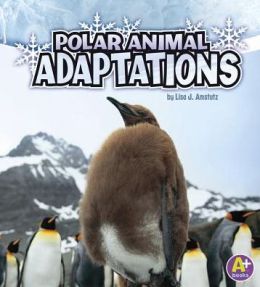 "Today we are going to read the book Polar Animal Adaptations. This book is written by Lisa J. Amstutz. Looking at the cover of this book do you think it will be fiction or non-fiction?"
I select a student who is following the correct protocol of raising their hand to answer the question.
"Why do you think it is going to be a non-fiction book Owen?"
"Owen thinks this will be a non-fiction book because the picture on the cover looks real and we are reading to learn something."
"When we are reading to learn something boys and girls we are reading to be informed, so we need to read informational text."
I open the book to the first page and we discuss how we see a table of contents.
"Can anyone tell me what this page is?"
I point to someone who is raising their hand.
"You're right Adam it is a table of contents. The table of contents page does what?"
I point to another student.
"That's right Kara it does tell where to find information."
"Here is a hard question for you all. Does anyone remember other features of the book that will tell us this is a non-fiction book?"
I select enough students to respond to this question until we have covered all of the features of a non-fiction book. Features such as: pop-out words (bold words), index, and glossary and perhaps labels. Any features that were missed by the students I will bring up during this discussion.
"Okay let's go ahead and read our book to find out what kinds of adaptations polar animals have made to survive in their habitat."
During reading will discuss why certain adaptations were made and some new vocabulary words. Words such as: blubber, hooves, dense, etc. I will not discuss all of the new words as I would lose my audiences interest and the flow of the book would be interrupted.
After reading I tell the students to take a seat around the edge of the rug. While the students are moving to the edge of the rug I get down the sample reader I have made.
"Today you will be making your own informational reader to take home and share with your family. This book will help you recall some of the adaptations we read about and saw today."
"You will get a book like this one and a sheet of animal part pictures (I hold up both for the students to see)."
N.B. For times sake I make the books up ahead of time and have the animal parts put in a ziploc bag or in containers for the students to take out and match to the correct page in the book.
"It will be your job to go through the book and match the correct animal part with the correct animal."
"Once you have matched all the animal parts to the right page, you will need to color your book using scientific coloring. Who remembers what I mean by scientific coloring?"
I select a student to respond.
"Well done Sara. Scientific coloring means that I will use real colors to match the animals and habitat I am coloring. If I needed to check an animal or habitat color, what resources could I use?"
"Good work explaining the resources Ava. I could use books and posters around the room to check my ideas."
"After you have finished coloring you will place your work in the finished work bin. Later on during the day I will ask students to come and read their book to me."
"When you come to read your book to me what are some strategies I could use to read the words?"
I select several students to respond to the question as I want all of the strategies we have worked on in small reading group time to be mentioned.
"Those are all good strategies readers use to read books. They sound out words, they use picture clues, they chunk words, and they skip a word and then reread to see what word would make sense. I am looking to see which strategies you use while reading to me. You may want to practice with a friend before you put your book in the bin."
"Does anyone have any questions?"
Once I feel the group has a good grasp of the instructions I send the students over one table group at a time to maintain a safe and orderly classroom. It usually sounds like this;
"Table number one let's go have some book making fun.
Table number two, you know what to do.
Table number three, hope you were listening to me, and
Table number four, you shouldn't be here anymore."
Allow the students 15 minutes to work on this activity. Set a visual timer and remind the students to look at the timer so they will use their time wisely.
Students working on putting books together.
Student gluing the correct adaptation onto the correct page.
WHY EMERGENT READERS?