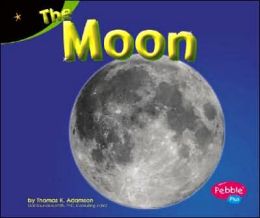 "Today's book is called The Moon. This book is written by Thomas K. Adamson. Looking at the cover what kind of book do you think this book will be?"
I will select a student who is following the correct protocol to respond to the question.
"That is a good prediction Rachel. Rachel thinks the book is going to be a non-fiction book. Can anyone explain to me why Rachel might have made that prediction?"
Once again I choose a student who is following the correct protocol.
"Finnley says he thinks Rachel made that prediction because the cover looks like a photo and we are looking for information about the moon so a non-fiction book would be the best type to use. Are those good reasons Rachel?"
"Okay let's go ahead and read our book."
During reading I will stop and discuss new vocabulary words such as satellite, crust, revolve, crater, etc.
We might not discuss all of the new vocabulary words as this would take too long and interrupt the flow of the book. I would also run the risk losing the attention of some of my audience members' focus which can lead to behavior issues. I will gauge the interest of my audience before discussing too many new vocabulary words.
When I have finished reading the book I will ask the students, "Now who can tell me with certainty one fact about the moon?"
I select enough students to respond to this question to cover most of the facts we have heard both from the video and from the book.
Nine times out of ten I have a student who picks up on the fact that the video says the moon takes 29 days to orbit the Earth, but the book says 28.
"I heard that too Carson. I did some research Carson and NASA says that it takes the moon 27.322 days to orbit the Earth but there are 29.53 days between full moons so people will often get confused about how long it takes the moon to orbit the Earth. So if it is okay with you Carson it would be fair to say the moon orbits the Earth at least once during a month; then both numbers would be correct."
This usually satisfies the questioning student.
"When are we more likely to see the moon?"
I allow the students to call out the answer.
"Your right at night. Haha did you see I made a rhyme? Right – night."
"Can anyone tell me something they do at night?"
I select a student who is following the correct classroom protocol.
"I go to bed too Jonathan. What else do you do at night?"
"Ahh… I like to listen to bedtime stories Kallee. They make me fall asleep with sweet dreams. What else?"
"Yummy. I like getting dessert after dinner Ava."
"Hands down. It is okay if you did not get a chance to tell me about what you do at night because at one fo the integrated work stations today you are going to write about what you do at night."
"You will get a paper like this one (I hold up a sample for the students to see)."
"On it you will need to do what first?"
I allow the students to chant the response, "Write your name!"
"That's right. Next you will complete the prompt, "At night I…""
"You will write about something that you do at night. Now if I am writing what are some things I need to keep in mind?"
I just point to students to respond and when I have had enough responses I will repeat back what they all said to me.
"You are all right; I need spaces between my words, I need punctuation, I need a picture clue and my sentence needs to make sense. How will I make sure my sentence makes sense to the reader?"
I select one of my more advanced writers to respond as I want the correct answer to be given as a model for everyone else.
"That's right Ava; I read the sentence to myself and if it makes sense to me it will probably make sense to someone else."
"What if I need help to write some of the words I need for my sentence? What resources are available to me?"
Once again I just point to students until all of the resources have been covered.
"Those are all good resources; I can tap out the word, I can use the sight word wall, I can use books in book area, I can use a friend or a grown-up. It sounds like you are ready to go and be awesome writers."
"I will place the checklist at the work station so you can go over it to make sure you have remembered all the things good writers do."
"Does anyone have any questions?"
Once I feel the group has a good grasp of the instructions I send the students over one table group at a time to maintain a safe and orderly classroom. It usually sounds like this;
"Table number one let's go have some night time writing fun.
Table number two, you know what to do.
Table number three, hope you were listening to me, and
Table number four, you shouldn't be here anymore."
Allow the students 15 minutes to work on this activity. Set a visual timer and remind the students to look at the timer so they will use their time wisely.
Students working on their sentence
Student using his finger as a resource to remember spacing
Student illustrating her sentence
WHY WRITE TO INFORM?
Students need to practice writing information to share with others for two reasons. First they can share what they know from experience, and secondly they can share information they have learned through reading or discussions.