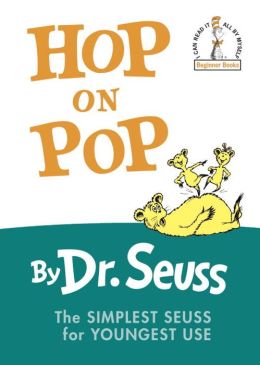 Today I hold the book up and ask the students who they think the book is written by.
"Boys and girls, raise a quiet hand if you think you can tell me who the author of this book is."
I select a student who is sitting quietly with their hand raised following the correct classroom protocol.
"Well done Benjamin; this book is written by Dr. Seuss. Benjamin, how did you know who the author of this book was?"
"Wow that is a lot of clues you used to know the answer. You said you knew because of the Cat in the Hat symbol on the cover of the book, you saw his name on the cover, and you have heard this book before. Those are all great ways to know who wrote the book."
"The whole title of this book is Hop on Pop. Does anyone know why we are reading this book today?"
"Well done Rachel; we are reading it because we are exploring the author Dr. Seuss. He wrote lots of books that helped children learn to read. We are reading some Dr. Seuss books to see what skills we can practice to help us become better readers. Let's go ahead and read our Dr. Seuss book for the day."
As we read the book I ask the students questions relating to the text.
"Hey I notice something about the text in this story. Can anyone tell me what they think I notice?"
"You are right Adam; the words rhyme. He writes the two rhyming words and then uses them in a sentence."
"Great work. We are going to continue reading and I want you to pay close attention to the rhymes Dr. Seuss uses throughout the book."
We continue reading the book through to the end.
Once the story is over I open up a blank screen on the SMARTBoard and tell the students, "Today at one of the integrated work stations you are going to come up with your own rhyming word sentence. The first thing you will need to do is choose two rhyming words to work with. I am going to choose the letter clap and snap."
I write the words clap and snap on the screen.
"Now I have to think of a sentence which uses these two words. Hmm…Let's see… Uh I know one."
I speak out loud as I write the sentence I want to use on the board.
"Clapp snaps. Clapp uses fingers to go snap, snap, snap."
Then I quickly draw me snapping my fingers.
"Great. I like it. Did I use rhyming words in my sentence?"
I allow the students to call out a response.
"Your right I sure did. I used some sight words and a vocabulary word to add interest to my sentence and you will most likely need to do the same thing."
I point again to the board as I say, "What I just showed you on the board is exactly what you are going to do on a recording sheet with the rhyming words of your choice. Don't worry because a grown-up will be at this station to help you out if you need it."
I hold up the recording sheet so that students will recognize it when they get to this station.
In my other hand I have some other recording sheets.
Rhyming Word Pairs master - includes a blank page so students can create their own rhyming word pair
"If you have trouble thinking of two rhyming words these recording sheets already have two rhyming words written on them. You can use these sheets to help you pick out rhyming words, but you will still need to come up with a sentence using these two words."
"Now remember Mrs. Clapp is going to use a checklist to go over your work to see if you followed the directions that were given. Did the student put their name on the recording sheet? Does the sentence use rhyming words? Is there an illustration to support the sentence? Is the student's work neat and tidy?"
"Does anyone have any questions?"
Once I feel the group has a good grasp of the instructions I send the students over one table group at a time to maintain a safe and orderly classroom. It usually sounds like this;
"Table number one let's go have some rhyming fun.
Table number two, you know what to do.
Table number three, hope you were listening to me, and
Table number four, you shouldn't be here anymore."
Allow the students 15 minutes to work on this activity. Set a visual timer and remind the students to look at the timer so they will use their time wisely.
Students working on activity. Student working on activity.
WHY RHYME?
One of the first patterns that students discover about language is rhyme. Being able to detect rhyming patterns supports students emerging insights into the predictable ways that speech maps onto print. Once a student knows how to rhyme they can begin to move onto other stages in the development of phonological awareness.
Rhyming words
Counting words in sentences
Counting syllables in words
Counting phonemes in words
Segmenting and blending onset and rime
Segmenting and blending phonemes
Substitution of sounds