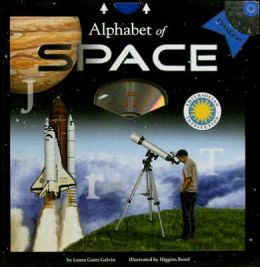 "Today's book is called Alphabet of Space. This book is written by Laura Gates Galvin and illustrated by Higgins Bond. Looking at the cover of this book and hearing the title can anyone predict what this book might be about?"
I select a student who is raising their hand and following the correct protocol to respond to the question.
"Owen thinks this book is going to be about space and it will use the alphabet. Owen why do you think this book will be about space?"
"Good reasoning. Owen said he thinks the book will be about space because the word space is used in the title and he sees space "stuff" on the cover of the book."
"Well we are going to go ahead and read this book to see if Owen is correct."
During reading we will go over some new vocabulary words such as telescope, satellite, etc, and review some others like lunar, astronaut, etc. I will only go over as many words as I think my audience can handle. If we were to go over every word it interrupts the flow of the book and I will begin to lose my audiences interest; this would be when I would begin to see behavior issues.
I will also ask the students what they notice about the story text.
"Boys and girls what do you notice about the words while I am reading?"
Again I select a student who is following the correct protocol of raising their hand to respond to a question.
"Well done Finnley; the book does rhyme. Can you give me an example of two words that rhyme in the book?"
"Great; place and space do rhyme."
"Did anyone else notice anything about the text of the book we are reading?"
"Nice one Rhys; the beginning of each page has something space related following the order of the alphabet. So if this page began with lunar, which letter do you think will start the next page?"
I allow the whole class to respond at once… "M."
"Well done; you are all super smart."
After reading I turn back to the letter R page where they use the word "Rocket."
"Boys and girls, can someone tell me the first short vowel sound you hear in the word rocket?"
I select a student who is raising their hand to respond to the question.
"Great vowel work Rachel; you are correct the first vowel sound we hear is the short o."
"Well today at one of your integrated work stations you will find a rocket ship mat just like this (I hold up a mat for the students to see) and can anyone tell me the letter they see in the square?"
I allow the students to call out the answer.
"You are all getting so smart, but now who can tell me the short vowel sound this letter makes?"
Once again I will all of the students to make the sound all at the same time.
"Fantastic work team; the short sound for the vowel o is /o/. Well you are going to use the short sound /o/ to make CVC words. You will take two letters tiles that look like this (I will hold up two letter tiles – one each hand – for the students to see) and place one on each side of the letter o on your rocket mat. Now you will need to make each the letter sound and blend those sounds together to see if it makes a word. If those letters make a real word, you need to check with a friend if the word you made is real, and if the two of you agree then go ahead and record the word you made on the recording sheet."
Having a friend confirm the word helps initiate a vocabulary discussion and also a simple spelling lesson. This is where you must make sure your groups are heterogeneously grouped because it will be your higher functioning readers who will clarify simple word spellings and vocabulary words for those not reading on such a high level. For example one student may think that "kom" is the word "come" because that is how it sounds out; however another student will be able to point out that if you use the word wall resource you will see that the word "come" is actually spelled c-o-m-e, making "kom" a nonsense word.
"Let's see if the two letters I picked out make a word."
I model the process by placing my letter tiles down on the rocket ship mat the way I described to the students. I model the sounding out process and blend the sounds into a word. Next I turn to the students and ask them if my CVC word is an actual word.
"My letters are m-o-p and the word is mop. Is that a real word?"
I select a student to respond to the request.
"Thanks Justin; you are right it is a real word. So now that I have a friend confirm my word I can write it on my recording sheet." I go ahead and write it on the recording sheet so that I have modeled the complete process for my students.
"Great now I have one word on my CVC Word Recording Sheet.. I will change my letters to make a new word to try out. I need to do repeat this process 16 times in order to fill up my recording sheet."
"I need to keep in mind Mrs. Clapp will be using a checklist to go over my work to make sure I have followed the directions I was given. Did the student write their name on their work? Are there recorded words on the recording sheet? And, is the student's work neat and tidy?"
After I have gone quickly over the checklist I ask, "Does anyone have any questions?"
Once I feel the group has a good grasp of the instructions I send the students over one table group at a time to maintain a safe and orderly classroom. It usually sounds like this;
"Table number one let's go have some word building fun.
Table number two, you know what to do.
Table number three, hope you were listening to me, and
Table number four, you shouldn't be here anymore."
Allow the students 15 minutes to work on this activity. Set a visual timer and remind the students to look at the timer so they will use their time wisely.
Why CVC words?
Students are often assessed on their ability to first recognize the sounds of a verbally given CVC word, which is the phonemic portion of learning. As their phonemic abilities and letter recognition skills increase, students are asked to put the correct letter with the sounds they hear in a CVC word, which is the phonics portion of the learning.
This lesson takes those two skills and now asks the students to build their own CVC word. First they must recognize the two letters they select, next they need to identify the sound each letter makes, and then blend all three individual letter sounds to produce a word.