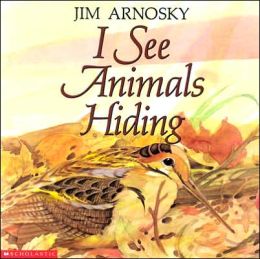 "This book is called I See Animals Hiding. The book is written by Jim Arnosky. Looking at the cover of this book can anyone tell me what they see or think?"
"Alex says the book is probably going to be about animals and it could be a non-fiction book."
"Emily thinks the book is a non-fiction book and we might see some Maryland animals in it. Why do you think it is a non-fiction book?"
"We certainly have read lots of non-fiction books lately."
"Adam thinks the book is not going to be a non-fiction book. Why is that Adam?"
"He says it is not non-fiction because it does not have a real picture on the cover. Do you mean a photograph? Well let's take a very quick picture walk through the pages to see if there are real pictures inside."
We quickly flick through the pages making a brief stop on each page.
"Adam is right there are no photographs in this book. But does that mean it is not non-fiction?"
"That's right Finnley. Non-fiction books do not necessarily have to have photographs. Long before cameras were invented scientists had to rely on drawings and paintings to make visual recordings of their observations. That is why I will often say to use to "scientific coloring" when you are recording your observations."
It is important for students to recognize the difference between a non-fiction and a fictional book because eventually they will be doing research projects and they will need to be able to make sure they are getting information from creditable factual sources; not story books.
Now we go ahead and read the book.
I make sure to read the large print and also the smaller print which asks the reader to find certain animals. I allow the students' time to take part in the activities.
Example of book page Example of large text Example of small text
We will discuss new vocabulary words as we come across them in the text; words such as, protective, wariest, squint, speckled, sneak, sway, etc.
Once the story is over I ask the students again, "What does camouflage help animals do?"
"That's right – hide."
"Can anyone tell me how I might spell the word hide?" While I am talking I place the book to one side and open up a new blank screen on the SMARTBoard.
I select one student to respond. As the student tells me the letters I sound them out and write them on the board. Many students will forget to place the silent letter e on the end of the word.
"Let me sound out the word we have written on the board here. /h/ - /i/ - /d/ (I use the short /i/ sound). I have the word hid here. Can anyone tell me what I need to do to this word to change it into the word hide?"
I will occasionally have a student who already knows about the silent letter e. If not I simply tell the student, "I need to put an e on the end of the word. The silent e at the end of this word tells the other vowel in the word to say its long sound – its name – instead of its short sound."
I write the letter e at the end of the word and sound it our again, only this time I use the long /i/ sound. "/H/ - /i/ - /d/. Hide. Great now we have the right word."
"Now if I were to take away the /h/ sound and replace it with the /r/ sound, what word would I have?"
"That's right Alice. I would have the word ride. Can anyone use the word in a sentence?"
"Fantastic Finn. I like to ride my bike. That was a great sentence. Can anyone give me another letter we could try at the beginning of our –ide chunk to give me a new word?"
We do words like side, tide, bide, wide, and then move onto blends such as, bride, glide, slide, etc. Importance of word families
I will have students who may give me words such as tried, shied, died, etc, and I will briefly mention these words because they do have the same ending sound. I will show the students the difference in the spelling and quickly move on.
"Those are all great words you gave me. You can see that by simply changing the beginning letter, or letters, at the beginning of a chunk we can get a whole new word. Today you are going to make a word wheel using the –ide word family chunk. You will find all the pieces you need to make your –ide word family wheel as well as scissors, brads, crayons and pencils. What is one thing you will need to remember to do before you take your word wheel home?"
Turn to Learn Word Family Wheels ISBN - 10: 0590643762 ISBN - 13: 9780590643764
"That's right; write your name on the back of the word wheel. That way if it falls out of your cubby I will know whose cubby to put it back into."
"I will be working with you at this station to ask you to give me an –ide word family word."
"Does anyone have any questions?"
Once the students understand the directions I send them over to the work stations one group at a time to maintain a safe and orderly classroom environment. It sounds a bit like this:
"Station number one go have some word wheel fun.
Station number two you know what to do.
Station number three hope you were listening to me.
Station number four shouldn't be here anymore."
These are not always done in that order so the students have to pay attention to when their station actually gets called.
-ide word family Students working on -ide wheels Students working on -ide wheels 2 Student working on -ide word wheel Student working on -ide word wheel 2