After the group discussion I present the book used for this lesson to the students.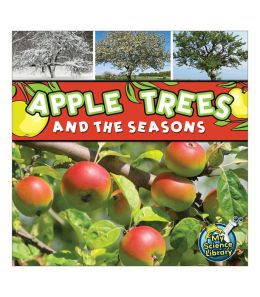 "The title of this book is Apple Trees and the Seasons, by Julie K. Lundgren. Let's look at the front cover and also the back cover. Can anyone tell me difference they notice between yesterdays book about an apple tree's seasons and today's book?"
I use the fair sticks to select one or two students to answer this question and have them explain their thinking to the rest of the class. "Sebastian notices this book has real pictures instead of drawings on the cover. He also noticed there was no mention of an illustrator. What do you think this means?" Hopefully you will have a student or two that picks up on the fact the book is non-fiction. I generally find I have students who say, "The book is real."
"Yes, you are right the book is real and there is a special word for that. Does anyone know it?" I usually have one student who can tell me it is non-fiction, but if not I go ahead and tell the students, "This book is a non-fiction book. That means that it is going to give us scientific information and facts. Some features of a non-fiction book include a table of contents, an index, a glossary, and bold words. We will look for these features as we read the book."
Now I go ahead and read the book to the students. While reading I will stop and have discussions about words we do not know; such as bud, blossom, harvest etc. We discuss these vocabulary words as they come in context for two reasons. One they are bold words which is a feature of a non-fiction book, and two, because explaining the words as they come up aids in student comprehension.
I will give the students opportunities to predict what will come next and have them justify their answer based on this book and hopefully recall some information from yesterday's book. "Which season do you think will come next?" "How do you know?" This helps the students to make the connection between the fictional text we read yesterday and the non-fiction text we are reading now.
When the book is over I explain to the students today is the day they will complete their apple season book. "Today when you go over to work stations at the apple season book station you will find four containers. In one container there are pictures of different kinds of apple blossoms. In another container are small squares of green and brown paper for you to make your small apples. In another container there are small squares of shiny red paper for you to make your ripe apples. In the last container there are small squares of white paper for you to make your snow (I do not mention the season words because I want to see if the students can recall which seasonal word should be used to label the tree). Your apple trees need to reflect the correct order of the seasons from both books we have read. Also remember once you have added the details to your tree you will need to label the tree with the correct season."
"The tables will have all the tools necessary to accomplish the task: scissors, glue, pencils and resources."
I explain the different resources that will be available to use at the table.
"Boys and girls there will be a copy of the book we just read, a copy of The Seasons of Arnold's Apple Tree, my example and also a word bank of seasonal words. You will be allowed to use whatever resource you need to complete the assignment."
I remind the students to make sure their work reflects care and pride.
I dismiss the students over to Integrated work stations one table at a time.
"Table number one, go have some apple tree book fun.
Table number two, you know what to do.
Table number three, hope you were listening to me, and
Table number four, shouldn't be here anymore."
Students working on adding details to their tree Student using example to label the season
Student using word bank resource to label the season Word bank resource the students could use
Allow 15-20 minutes for this part of the lesson.