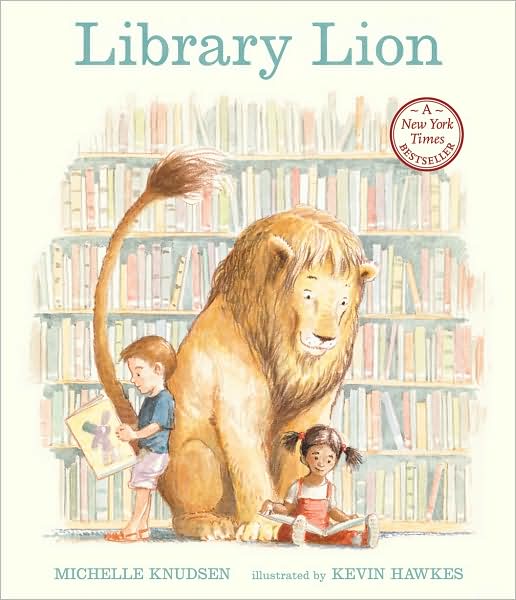 "This story is called Library Lion. It is written by Michelle Knudsen and illustrated by Kevin Hawkes. When I look at the cover of the book I see a clue that tells me if this book is real or make believe. What do you think it is?"
I select a student from the Fair Stick jar to answer the question. Then I ask, "Bryan I think you are right. I think it is make believe. Another word for make believe is fiction. Bryan can you tell me why you think this book is fiction?"
"I agree I do not think you would find many libraries' that would let a lion in."
"Now boys and girls I want you to remember our good audience skills by looking and listening to the speaker. We need to listen closely to the story so we can hear the rules in the library."
While reading the book we stop and discuss some key details. For example, "Why do you think the lion ran in the library?" "Why did he roar to get Mr. McBee's attention?" "Do you think Mr. McBee likes the lion?"
When the book is over I ask the students, "When do you think it is okay to break the rules?" After selecting a couple of students to respond to the question, I tell the students their assignment for today will be to express their opinion by completing the writing prompt "I think a good rule is..."
I explain to the students what an opinion is. "Boys and girls an opinion is someones point of view on a topic."
Next I give the students an example to clarify the statement I just made. "It is my opinion that apple pie is the best pie there is. Is that a true statement? Well it is for some people but not all. Someone else might like peach pie better. But it is my opinion that apple pie is better."
I tell the students they can write their own opinion on what a good rule is or they can dictate their opinion to a grown-up who will write down their words on a Post-It note and then they will give it back to the student. "You will copy the words from the Post-It note onto your paper making sure to copy the letters as bet you can."
"When you have finished writing your words you will need to draw a picture clue for the reader."
Once I feel the students understand the concept of what is being asked of them I prepare to send them over to the work station tables. "At the work station you will find the writing prompt. What is the first thing you will do?" Hopefully someone will remember the first thing they need to do is write their name at the top of the paper. "You do not need to write the date because we have the date stamp. Use it to date your work."
Now I send the students over one table group at a time to maintain a safe and orderly classroom. It usually sounds like this;
"Table number one go have some rule writing fun.
Table number two, you know what to do.
Table number three, hope you were listening to me, and
Table number four, you shouldn't be here anymore."
Give the students about 15-20 minutes to get this assignment done. Remind the students they can look at the visual timer to check how much time they have left.
Student working Student working
Why write opinions?