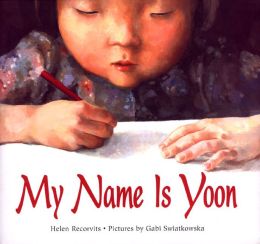 I show the students the cover of the book we are about to read. "This book is called My Name is Yoon. The book is written by Helen Recorvits. She wrote the words so she is the author. Gabi Swaitkowska drew the pictures so she is the illustrator."
I tell the students that the cover of the book can sometimes be used as a clue as to what the book is about. I model this process. "When I look at the cover of this book I see a little girl writing and since the title is called My Name is Yoon, I am predicting that this book is about a little girl who writes her name. Do you think that is a good prediction?"
Somebody may raise their hand and ask what a prediction is so I tell the students, "A prediction is a really good guess based on what I observe or know."
Now I read the story to the students.
While I am reading the book I use thinking aloud to draw attention to the focus of our lesson. "Wow, Yoon is right. Korean writing does look pretty, and it does not look anything like the letters we use to make up our words."
When I get to the page where Yoon is displaying her name for all to see I ask the students what kind of letters she used to make her name? There may be a student or two that notices she used all upper case letters and I will make a brief mention about how only the first letter of our name is supposed to be an upper case letter.
After the story is finished I let the students know that they will be making their own name today. I let the students know they will each be getting an envelope which has the letters of their name in it. It will be their job to take the letters out and put them in the correct order to make their name. I let the students know that they are allowed to use the many resources around the classroom to check to see if they have the letters in the correct order.
I let the student know once they have the letters in order they will be gluing them to a strip of paper. Then they will glue on a picture of their face and the handprint we made using the flesh colored markers from earlier in the day.
I model the process for my visual learners and my student who has auditory processing disorder.
When my demonstration is over I let the students know they will have 20 minutes to complete the assigned task. I set the visual timer for them to see.
Now I dismiss the students to work stations one group at a time to maintain a safe and orderly classroom.