Over the course of this school year, Ann has been working with her BetterLesson instructional coach, Romain Bertrand, on shifting to a more student-centered classroom. Ann decided to try using the Breakout Box instructional strategy (available with a BetterLesson account) to build student engagement and collaboration, and to provide her students with a new format for practicing their problem-solving skills. In this post, you will find a comprehensive review of the Breakout Box strategy written by Ann Stewart based on her experiences with it using it in her classroom so far.
How the Breakout Box Strategy Works
I first heard about Breakout Box strategy from my school's Talent Development teacher. The students who she pulls from my classroom are always bouncing in their seats in anticipation of her arrival on Friday afternoons, so I asked her what the secret to her engagement was. Breakout Box was the answer.
Breakout Box is the name-brand for a system of boxes and locks. Students solve any combination of problems to acquire codes which will unlock each of the up to six different types of locks. Once all of the locks are open, the box itself can then be opened to reveal contents that were selected and stored there by the teacher. The box also comes with a blacklight flashlight and invisible ink to create secret clues to help students solve the codes. Students can earn hints by answering less challenging questions correctly.
Immediate Impacts
As with any new teaching tool or strategy, I expected my students' engagement to be high once  I began implementing the strategy, but I didn't necessarily expect to have 100% participation. I shared this concern when I met with my BetterLesson coach the week before I wanted to roll out the Breakout Box strategy. We discussed the possibility of some students not wanting to work in groups or being uncomfortable working with challenging math problems. In anticipation, I created a rule allowing students to work independently if they generated hints for classmates who might be struggling with the more difficult problems. In the end, I didn't use this accommodation. The entire class from each of my math blocks worked as a team to unlock their respective boxes.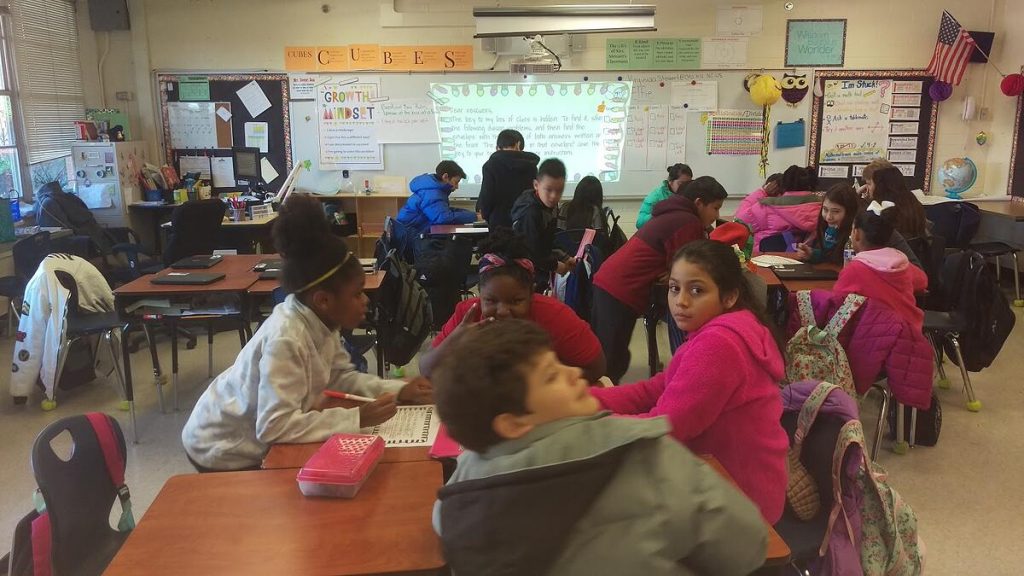 After a few attempts at this strategy, I realized that creating my own Breakout Box lessons would be relatively easy. I decided to create a Breakout Box activity tailor-made to my class's current division unit. I wrote a few multi-step, higher level word problems for my students to solve, and I included lots of computation practice as well.
Then, I met with my BetterLesson coach again so that he could help troubleshoot some potential issues. After reviewing the evidence from my first attempts, we agreed on one key next step: I would make strategic adjustments within my groups to increase the number of opportunities for every student to engage at the right level. This way, it would be less likely that students with higher overall mastery would dominate the group work. Anticipating obstacles, and finding solutions beforehand, saved a lot of time and frustration as I continued to use this strategy to increase engagement and participation.
I created Save Elfie for my students to complete before the winter break.
Once I made these adjustments, it was clear that the Breakout Box strategy encourages students to struggle meaningfully; they seem to accept failure with less frustration when they can see that working together will benefit everyone. I expected to encounter a few disgruntled players, but instead, my students naturally encouraged their teammates to try again which quickly stemmed the flow of negative self-talk.
The Breakout Box makes classwork more fun because it is more interactive. We get to compete with classmates and you get instant feedback on your work. You don't have to wait for the teacher to give you a paper saying how well you did.
Jesalyn, 5th-grade student, Starmount Academy of Excellence.
Implementing Breakout Box Routines
Just because all students were engaged in the game did not mean all students were equally engaged in learning and practicing. I have several students who enjoy the thrill of finding the missing codes, but who are not as thrilled to complete the assignments necessary to do so. For a student to approach the box, they had to have the answer and all of the work for a problem written down. I realized my mistake when the same students came to the box repeatedly for a particular lock while other students never attempted it.
On my next try, I set up a checklist on the whiteboard for each lock on the box. For a group to indicate that they were ready to try a lock, all members must have worked out the problem along with their answers. Even though this slowed some groups down, students began helping each other reach the correct answer instead of speeding to the box once one person had solved a problem.
Limitations
I used Donors Choose to purchase a Breakout Box and its paired subscription to the online version. The cost per kit from Breakout EDU starts at $150. The subscription lasts for one year and offers students the opportunity to use virtual boxes. As much as I like the idea of virtual boxes, the assortment was limited and does not align with my state's new math standards.
After looking online for different ways to use the Breakout Box, I found that many teachers make their own boxes using standard hardware store materials. Homemade versions are significantly cheaper and are just as effective as the name-brand item.The key difference is forgoing the year-long membership to Breakout EDU resources.
Recommendations
Even with a few flaws, the Breakout Box has made a great addition to my math classroom and has certainly made an impact on my students' progress. Like so many teachers, I am constantly striving to engage my students fully in their practice. This box addresses that issue when used occasionally. I plan to continue using the box for review on a monthly basis and to reward my students when they've worked hard as a class. My next goal related to this strategy is to invite my students to begin creating their own Breakout Box games!